NEWS
---
Our REAL Team on Working Remotely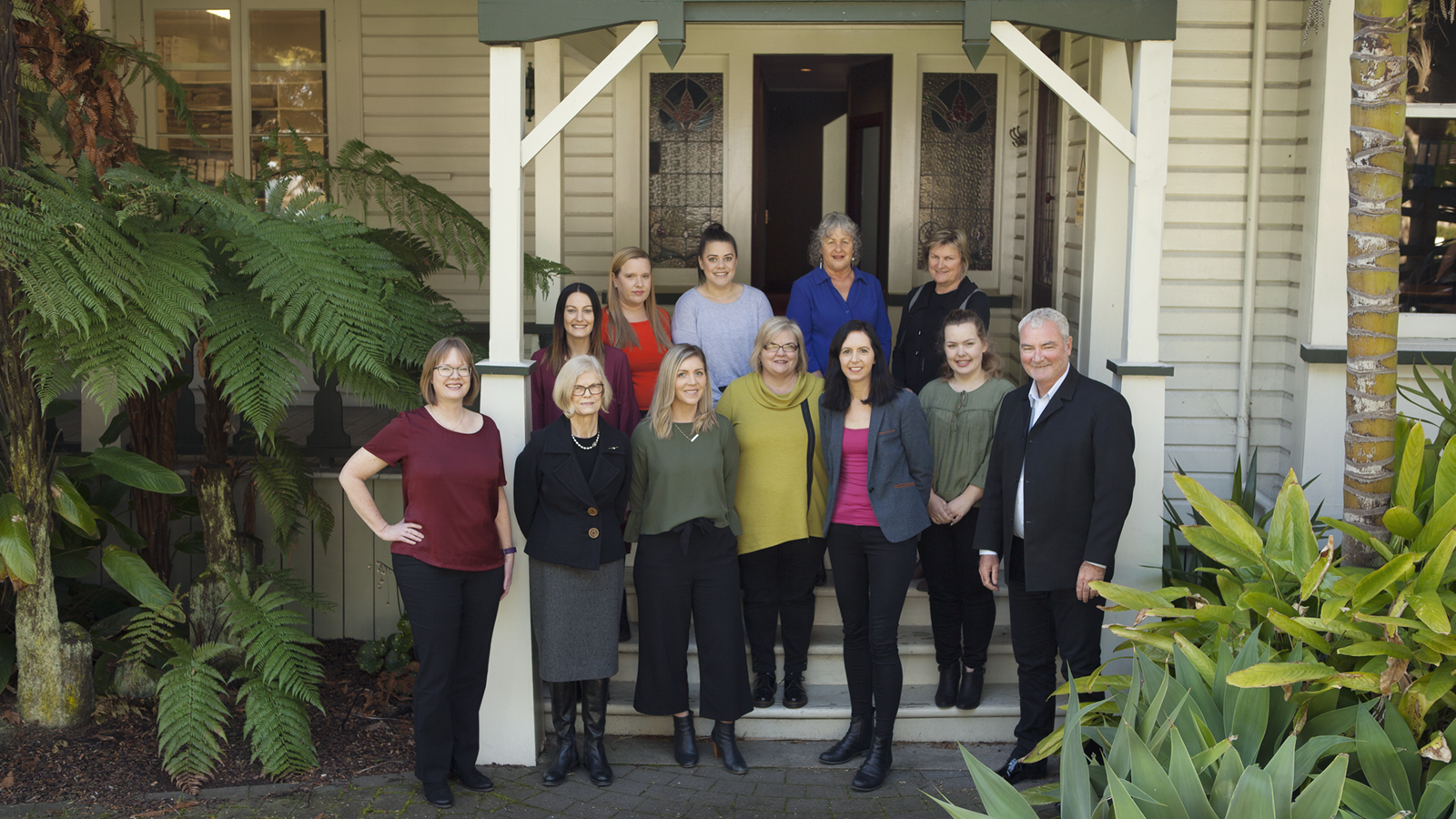 We put the call out to the REAL Chartered Accountants team to share their thoughts with us on their experiences of working from home. The result was some interesting insights and a few great photos too which we share with you in our latest blog post here…
Rob Egan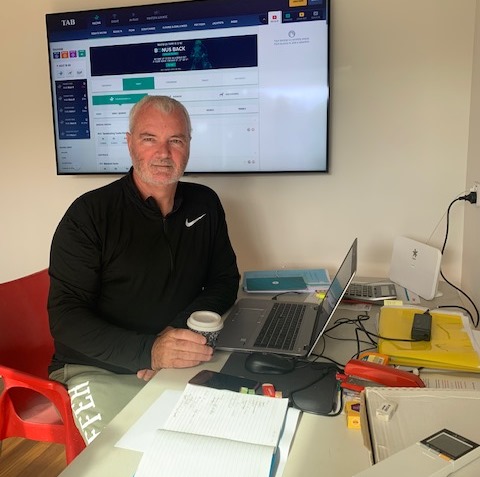 Based at Waihi Beach hasn't been such a tough ask for our director, who enjoyed an initial three-week self-isolating period on his own before the family joined him at their beach house.
"With my health issues over the past 36 months and resulting comprised immune system, it was felt that our children returning home from University should quarantine from me for a couple of weeks," explains Rob. "Having the extra bodies in the house took a while to get used to as there were a number of collisions and "get out of my way" comments."
Having completed extensions to the property prior to lockdown to include an office with the intention of opening a satellite branch servicing the Waihi Beach community, Rob has enjoyed the opportunity to test run the space and systems with the team back in Tauranga as well as his clients.
Rob continues, "The good thing is that it has provided me the opportunity to find out what it is like to work remotely and remain in contact with the staff and our clients. I have become reasonably proficient with Zoom for work and social meetings."
"Through modern technology and our established systems, we have been able to continue to get work out the door and provide a good level of service."
After the frantic first week of lockdown with understanding the Government support packages and responding to client queries on the topic and the application to their particular circumstances, Rob was soon able to establish a normal week routine. Although the short walk to the kitchen proved to be his biggest distraction with working from home.
"I think I can do the trip now with my eyes closed. Thank goodness the beer fridge is in the garage!" says Rob. "The wall mounted monitor has not been that much of a distraction, but it is well used on the weekends."
Once we return to some form of normality, like most NZ businesses, we will review our pre-lockdown and new remote operating systems, and potentially review how a combination of these may be beneficial to the way work and the service we provide in future. It will be a different world from now on.
Karin Copestake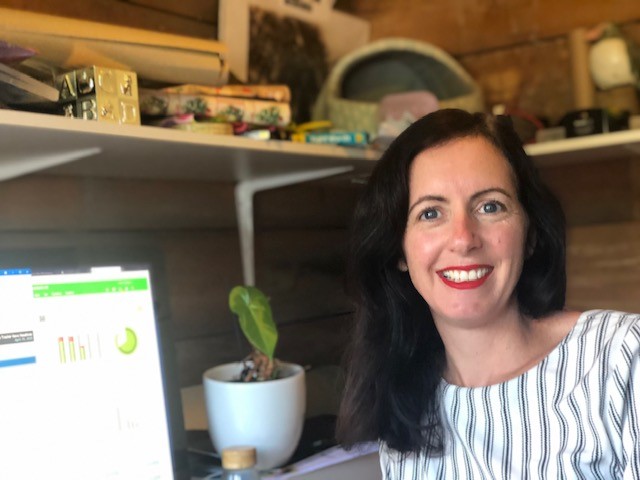 Juggling a young family, schooling and working from home is a fairly typical picture among our team but acquiring a business just before lockdown was an extra challenge that Karin and her husband, Drew, did not anticipate was going to be quite so momentous.
"The day before lockdown my husband and I purchased a business which imports, distributes and sells a range of European-style furniture made in Denmark called Danish Furniture NZ (www.danishfurniture.nz)," explains Karin. "The timing hasn't been great but we are doing everything we can to keep the business running and are confident we will come through this OK."
It's fair to say that Karin has great empathy for all our small business clients and an even deeper, personal understanding of what you are all going through right now!
Karin has found some great ways to keep everyone working together well at home during lockdown. "I get up at 5am every morning to get a chunk of work done before the kids are up, so some of my clients may have noticed emails coming through very early in the morning.
"Fortunately, I have a great office set-up at home so it's not too different from being at work. I am getting out for a 10km run twice a week and the kids and dogs are enjoying regular walks as well."
If you want Karin's help with your business or accounts then please give her a call on 021 143 0343 or email karin@realca.co.nz. She is also available for video meetings.
Gillian Box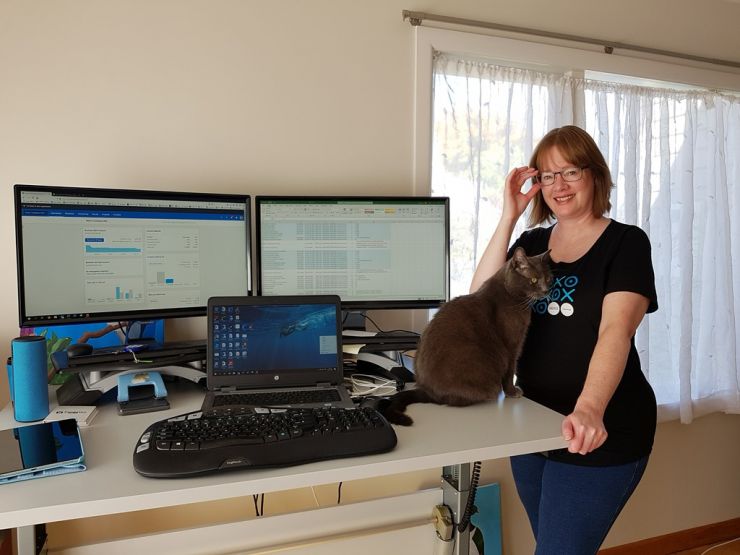 Gill's family bubble includes her husband, Adrian, and youngest daughter, Emily, who is in Year 13 so able to manage her own schooling which must be a big relief.
"My bubble buddies and I are making the most of this surreal time," says Gill "We're fortunate in that both my husband and I can work from home. Adrian has the office and Emily and I have taken over the dining room."
Gill jokes of her new shared office space with her PA aka. Her 'Pet Assistant', aka Bella, 'Bella-Boo' or 'get-down-from-there!' – their cat certainly has a lot of pseudonyms. Unlike most PAs, Gill's has the honoured task of sleeping in patches of sunlight or under blankets.
"Her lack of work ethics will be discussed during her next performance review," agrees Gill. It's a tough life being a cat!
"As a family, we are trying to keep to a routine during the working week as much as possible in order to bring some kind of normal to this," says Gilll. "We make time to take an afternoon walk or bike ride to get fresh air, exercise and sunshine."
Like the rest of our team, Gill has been busy helping her clients access the wages subsidy and other support the government has offered during the lockdown. There is a lot of support out there and we have posted links to many of these on our website.
"I urge everyone to take extra care of themselves as this is a stressful time and the added financial pressures can seem overwhelming."
Please don't hesitate to contact Gill on 021 0644 975 or email gillian@realca.co.nz.
Kristen Stewart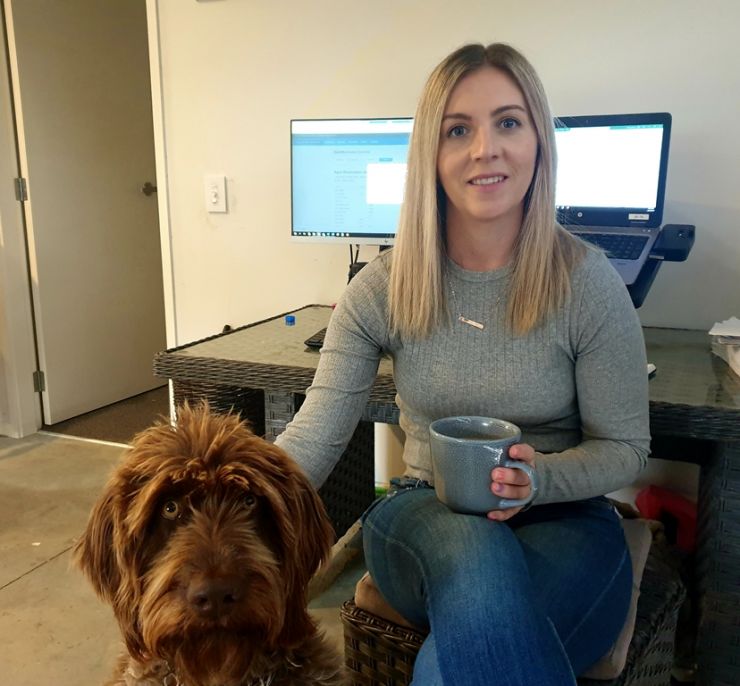 Kristen has found a unique way to share the garage office space with her husband while also looking after their kids.
Discovering early on that trying to have an office in the house with the kids up early too was just not sustainable, Kristen and her husband made the decision to make an office space in the garage instead.
"My husband and I are working in shifts sharing an office and looking after the kids," she explains. "I'm up super early for the morning shift and it is actually very peaceful out in the garage, and we always have the company of Bernie (the family dog) at our feet!"
Living in Omokoroa, Kristen agrees they are very fortunate with their location which has plenty of walking trails and a beach at their doorstep so they don't need to go far to get some fresh air and exercise.
"I have also been mastering my baking skills but if level 2 doesn't come soon I'll be rolling out of Isolation!" cries Kristen.
Kristen is also available via email kristen@realca.co.nz or phone as well as video meetings on request.
Moira van den Broek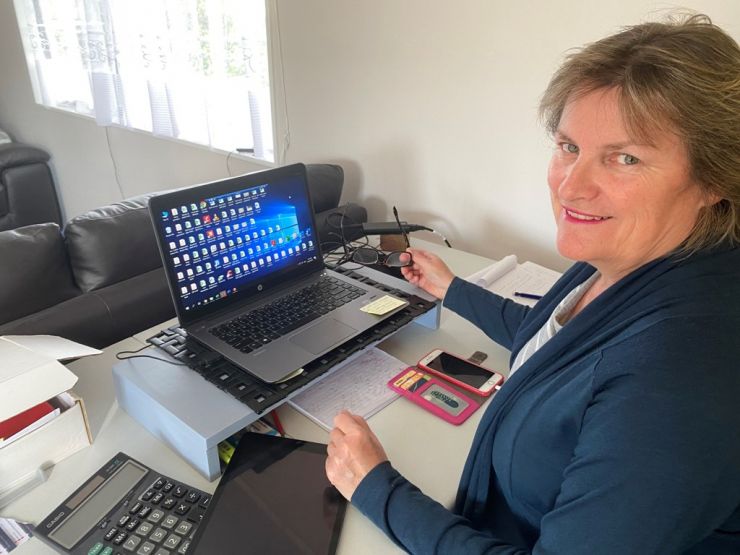 Moira is certainly feeling the downgrade from her lovely own office at REAL to a laptop, mobile phone and iPad on a camping table.
"Not the ideal office but I know I am very fortunate to be able to work from home," agrees Moira.
"My husband also decided to complete some renovations to our home while in lockdown so it's not very peaceful for me or the neighbourhood, but we're nearly completed now."
Aside from feeling like she has a camp office in a construction zone, Moira has really appreciated the amazing stories she has been hearing from her clients as well as many tough and sobering stories too.
Moira urges all our clients, "Please know you can contact us by phone, mobile or text. We are able to firstly listen, give advice if needed, offer support and/or guide you in the right direction to solve the issue."
Lee-Anne Knaggs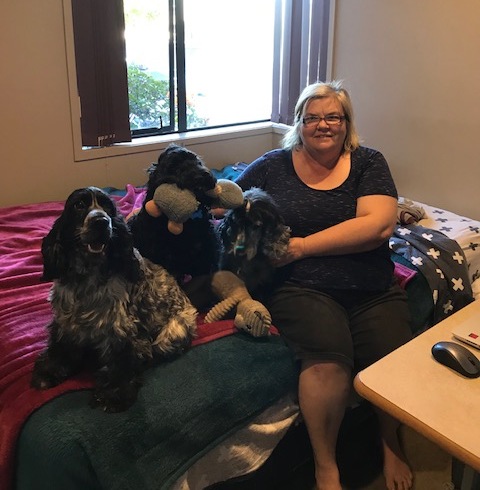 Right before Covid-19 hit New Zealand, Lee-Anne had agreed to house-sit a property and the animals for a family who were about to go away on holiday. Suddenly finding herself without a home as the lockdown period was announced, close friends of Lee-Anne's offered to have her stay and be part of their bubble.

"It is quite a unique situation," agrees Lee-Anne. "My bedroom serves as my office during the day with three furry assistants, Baxter, Needles and Shadow (also known as Granny), who either sleep on the bed, grizzle at the door if I shut them out or attempt to trip you up going out the front door when it's time for walks."
Aside from working and regular walks with the dogs, Lee-Anne has also been keeping busing with some crafts including making masks, pin cushions, and snuggle rugs for her bubble buddies' shop.
"Even though it has been a stressful time for everyone, it has been an honour to help clients with their questions and the range of issues arising through this situation," says Lee-Anne.
If you would like Lee-Anne's help, please call her on 027 367 1739 or email leeanne@realca.co.nz.
Genelle Lee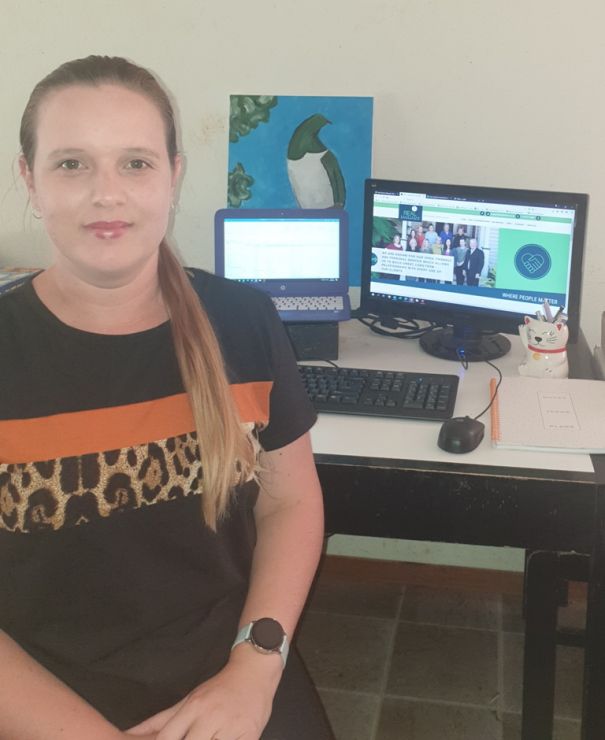 "I was envious of my children and husband at the start of lockdown as I was the only one not on 'holiday'," says Genelle. "But my husband got bored quickly so, being a painter by trade, he has now painted the whole outside of our house and also cooked dinner just about every night!"
Genelle certainly has plenty of reasons to appreciate the lockdown period and the unforeseen opportunities it has bought to many of us. Aside from a newly repainted home, she has also achieved her personal exercise goals including daily steps and adventures with her children.
"I get to venture out most days with one child or all three, and even as a whole family a couple of times," says Genelle. "I love living close to the Waikareao Estuary Walkway, and also discovering the other end to alleyways which I've always wondered about."
Perhaps Genelle's biggest challenge during lockdown was getting her three children set up for school with only her laptop to share between them. Genelle luckily managed to buy a second laptop for her daughter and then converted her son's Xbox into a computer with the addition of a keyboard.
"I was relieved when a schoolwork pack arrived for our youngest son, who is 5 years old, and even more relieved when our daughter volunteered to be his teacher!"
Nicole Elling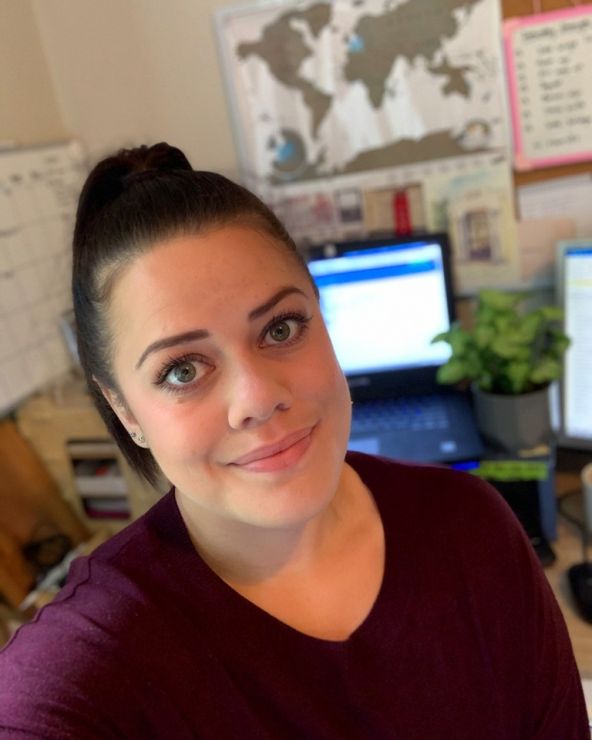 The adjustment to working from home wasn't an easy one for Nicole who found it a real challenge juggling work, study and exercising in a flat/house-share environment.
With her bedroom becoming her office by day and sleeping space by night, Nicole found she had to establish some new routines and guidelines for herself to help make the transition easier.
"I set some guidelines for myself such as not working from bed, getting dressed each morning (I will not work in my pjs), continuing to eat fresh vegetables as much as possible, and completing a workout or going for a walk each day - there are so many walking tracks in the Kopurererua Valley!" says Nicole.
"The gym was a big part of my routine before lockdown so in the first few days of Level 4 I set up a challenge with some of my gym buddies and a group chat to help us stay motivated."
Nicole's gym also offered a remote training programme including two group training sessions each week via Zoom which helped her balance out the hours of sitting at her desk each day.
"I think this time has reinforced how important it is to support local business and how much Kiwi ingenuity fuels small businesses," explains Nicole of her personal experiences from this time. "It's great to see so many New Zealand made products in the market, and I can't wait to make the most of these in the future!"
Rose Shanks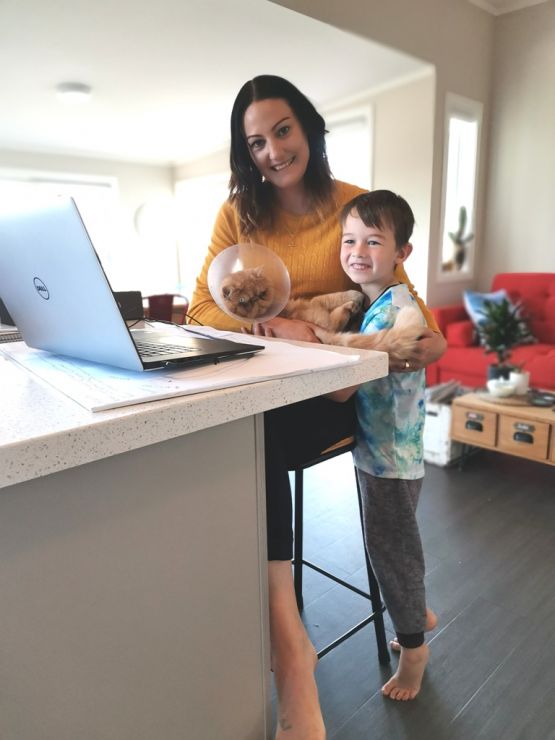 Rose chose to set up her home office in her kitchen for its bright workspace, beautiful view, coffee facilities and the fridge! The decision may have also been helped along by the fact that her partner set up his home office downstairs where he is often on the phone with clients and staff.
"I'm not going to say working and living in lockdown is always a breeze," says Rose. "It comes with its daily challenges, but we are taking it day by day."
Like most other families juggling work and home-schooling, Rose says the kids also took some time to adjust to their parents not always being available. Although we are pretty sure they must all be enjoying their newly upgraded backyard and garden.
"We have achieved a lot of gardening in our spare time," Rose agrees. "We trimmed all of our trees, finished painting and decorating the kids' treehouse with them and added in some backyard swings!"
The family pets, Hefner (a cat) and Bowie (a Boston Terrier puppy) have also quite enjoyed some of the benefits of the lockdown period and having everyone at home full time.
As Rose explains further, "Hefner had surgery on his eye and is reluctantly sporting a neck cone to protect it so he enjoys spending time laying on the couch in the sun, and I always grab him for a quick cuddle at my desk.
"And Bowie is so happy to have us home with him every day. We have even been able to use this time to do some more training with him in the yard."
Kelsie Sant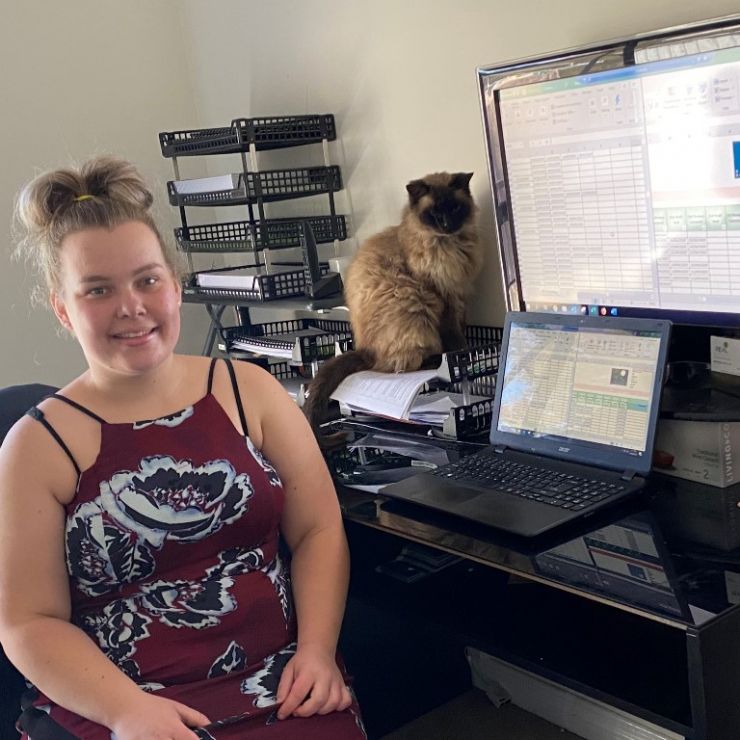 Learning early on that having an office was not going to work in the dining room of her house, Kelsie has found herself working in a near paperless system from her bedroom instead.
"As soon as I set up my lovely quiet office space, our two cats decided to join me as well so now I have to negotiate my work space with them," says Kelsie.
Based in Te Puna, Kelsie feels very lucky that she can easily escape from her bedroom office to take her dogs for a walk through the paddocks or read a book with her sheep.

"I've really enjoyed the time I've been forced to spend at home," agrees Kelsie. "It's also given me the chance to work in my sewing studio that I've been creating off the garage."